More Related Stories
Public Mobile Shakes Up the Canadian Telecom Industry
March 31, 2011 --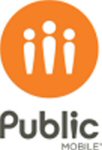 TORONTO, ONTARIO -- (Marketwire) -- 03/31/11 -- In a series of precedent setting announcements, Public Mobile is changing the face of Canada's telecom sector. Today, Public Mobile turned the industry on its ear and announced:
1. Costly home phones are redundant and prepaid wireless is dead with $15 Unlimited Talk. 2. National coverage has launched with the lowest price for Canadian roaming - 15 cents per minute. 3. The introduction of the unbeatable $5 Unlimited Email.
The big winners are consumers, "Canadian cell phone users have been held hostage for years," said Alek Krstajic, CEO of Public Mobile. Continued Krstajic, "they know they've been paying outrageous fees for telecommunications services but now we are bringing real unlimited alternatives to more Canadians than ever before."
Public Mobile set out to change Canadian telecommunications by building a company with a demonstrable and sustainable cost advantage, and then passing these savings onto customers in the form of Simplicity, Fairness and Value - innovative concepts for the Canadian telecommunications industry.
In its short history, Public Mobile has achieved many industry firsts:
1. First to announce Unlimited Talk and Text plans 2. First to launch Unlimited Canadian long distance for $5 per month 3. First to bring Unlimited Canadian and US long distance for $10 per month 4. First to introduce Unlimited Overseas long distance calling to 45 countries for $15 per month 5. First to introduce, at $24 per month, the lowest price for real Unlimited Talk
Public Mobile's goal is to bring straight-forward, affordable service to hard-working Canadians so that more people can enjoy the incredible benefits of wireless communications.
$15 Unlimited Province-Wide Talk Makes Costly Home Phones Redundant And Prepaid Wireless Is Dead
Following in this tradition of innovation, Public Mobile is introducing Unlimited Province-Wide Talk for $15 per month
This is a competitive marketplace. There are seven players: Bell, Rogers, Telus, Videotron, Wind, Mobilicity and Public Mobile - all competing for market share. Public Mobile continues to innovate and use its demonstrable and sustainable cost advantage to transform the Canadian telecom landscape for hardworking, value-conscious Canadians. Whether they don't yet have a cell phone or whether they continue to pay for expensive prepaid minutes and expensive home phones, Public Mobile offers unbeatable value.
Available tomorrow, Public Mobile is launching Unlimited Province-Wide Talk for $15 per month. This is a permanent rate plan. It is not a limited time "bait and switch" promotion that fools consumers with a low price upfront but then increases after a few months. $15 Unlimited Province-Wide Talk is exactly what customers have come to expect from Public Mobile - simple, straightforward value with no catches.
There are approximately 500,000 wireless prepaid customers in Toronto and Montreal paying an average of $15-$20 to get a small amount of expensive minutes. There is now an alternative.
No more paying up to 40 cents per minute for prepaid calling.
"At $15 a month, there is now a real alternative to prepaid cards. No more counting your minutes, topping up or standing in line to buy prepaid cards," said Krstajic.
90% of Canadian households continue to have a home phone - paying over $30 per month for local and long distance calling.
Now there is a real alternative to costly home phones.
"At $15 a month for Unlimited Provincial calling, cutting the cord is more attractive than ever. People are realizing they shouldn't be paying extra for ludicrous forty-year-old charges - like 'Touch-Tone' or crazy made-up fees like 'network access' on home phone long distance plans," explained Krstajic.
Public Mobile's $15 Unlimited Province-Wide Talk is simple and clear with no catches. It's just what consumers have come to expect from Public Mobile.
This is bigger than just a new rate plan announcement. Given how much of the average household budget is consumed by telecommunication services, this is a fundamental change in how Canadians spend their money. Think of all the other things people could do with their money if they weren't forced by the big three phone companies to pay for expensive services and made up fees. They could buy groceries, textbooks, or make their communities better places to live. Perhaps this could be something much more. Imagine that instead of making the big three fat cats rich, Canadians decided to enrich their world with these savings.
With Public Mobile's $15 plan there truly is an alternative. There truly is a way for Canadians to save money. What they do with those savings is up to them but it could just lead to a better world for us to live in. And Public Mobile will do its part as it continues to grow. In keeping with "changing the world", Public Mobile is announcing the launch of our Public Good initiative. Starting today Public Mobile will donate $10,000 to local charities for every 10,000 customers who join Public Mobile. Its superior cost structure allows Public Mobile to give value back to customers and our communities alike. Together we just might be able to start to make the world a better place.
The Lowest Price For Canadian Roaming
Public Mobile continues to deliver fairness and value by launching the lowest price for Canadian roaming at 15 cents per minute.
Public Mobile's unlimited network continues to grow. In Toronto, the network now extends from Hamilton to Oshawa with 82 exclusive Public Mobile stores. In Montreal, the network extends from the North Shore to the South shore covering Laval and the Island of Montreal with 48 Public Mobile stores. In total, Public Mobile's unlimited network now covers approximately 8 million people.
And now coverage extends across Canada. With extended Canadian roaming coverage, customers can use their phones from coast to coast. Whether you want to take a day trip to Niagara Falls or see Georgian Bay or spend a weekend in Quebec City, Halifax or Vancouver, Public Mobile has you covered with the lowest price for Canadian roaming - 15 per minute. When roaming, outgoing text messages are 15 each and incoming text messages are free. Public Mobile customers are always in control of their roaming costs - no month end surprises for Public Mobile customers.
Competitive Canadian Roaming Comparison
------------------------------------------------ Voice/Min Text/Msg -------------------------------- Incoming Outgoing -------------------------------------------------------------------------- Public Mobile $0.15(i) Free $0.15 -------------------------------------------------------------------------- Mobilicity $0.20 $0.10 $0.10 -------------------------------------------------------------------------- Wind $0.25 Free $0.15 -------------------------------------------------------------------------- Chatr $0.25 Free Free -------------------------------------------------------------------------- Videotron $0.25 Free $0.15 --------------------------------------------------------------------------
Unlimited Email Is Unbeatable At $5 per month
The benefits to consumers don't stop there. There is more work to do. In April, Public Mobile will launch data services. Public Mobile is introducing its first wireless data device, the Buzz. It's an affordable and stylish data-capable wireless phone. No contracts. No complex tab systems. The full QWERTY keyboard is perfect for email. At the same time, Public Mobile will launch its $5 Unlimited Email service. Until today, Canadians wishing to connect with friends and family by email had two options: 1) Go out and spend hundreds of dollars on a computer and router, then pay their phone or cable company at least $25 per month for internet service and that's not including the activation fees some of these companies charge or 2) Purchase expensive smartphones, often costing hundreds of dollars and pay at least $35 per month to get voice and data service when all they need is a Public Mobile phone with the $5 unlimited email feature added to their monthly plan. It's just another way Public Mobile is changing the face of Canadian telecommunications.
New entrants and incumbents alike have made the mistake of pushing prices to unsustainable levels for themselves. Public Mobile has laid a solid foundation for growth, with the lowest cost structure in the industry, and will continue to compete aggressively on price. It is an exciting, growing company supported by committed financial partners and it is the only new entrant to attract new Canadian capital to fund its growth and expansion. Public Mobile is a company that stands for Simplicity, Value and Fairness for consumers and the belief that there is a better way for us all.
Everybody Talk
About Public Mobile
Formed in 2008, Public Mobile provides unlimited talk and text services to value conscious customers in Ontario and Quebec. There are no contracts, no credit checks and no surprises. Public Mobile launched its network service in May 2010 in Toronto and June 2010 in Montreal. Public Mobile is building its network from Windsor to Quebec City. The company purchased its spectrum licence for $52M in July 2008. The licence covers an area reaching 19 million Canadians. More information about Public Mobile can be found at www.publicmobile.ca.
Contacts:
For press inquiries: Public Mobile
Lisa Papas
Director, Corporate Communications
416-710-4432
lisa@publicmobile.ca
www.publicmobile.ca


Copyright @ Marketwire
Related Keywords:
Public Mobile, Home,Family,Internet,Family,Communications,Web,Cell phone,Smart Phone,Family,EMail,Canada,Toronto,Montreal,Marketwire,Financial,Wireless Communications,Communications Technology,Internet Technology,Internet,Email,Family,Other,
---
Source:Marketwire. All Rights Reserved